Birch Wellness Professional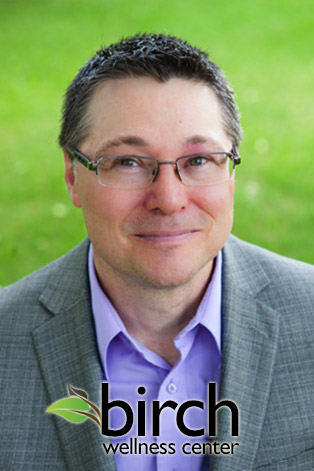 Kevin Richardson


Clinical Social Worker
Kevin Richardson is a Birch Wellness Center professional
and as a psychotherapist SPECIALIZES IN THERAPY WITH MEN.
He has worked with hundreds of men over the years and knows
how long men can work trying to deal with problems alone–even
when it's not working. And, he knows how surprised and relieved
guys can be when they come in and find that there's counseling
aimed at understanding and helping them as men.
ALCOHOL ADDITION
ANXIETY & DEPRESSION
BEHAVIORAL ISSUES
BIPOLAR DISORDER
COGNITIVE BEHAVIOURAL THERAPY
COPING SKILLS
DEPRESSION
DIVORCE
DRUG ADDICTION
EMOTIONAL DISTURBANCE
FAMILY CONFLICT
GRIEF, LOSS & BEREAVEMENT
RELATIONSHIP ISSUES
SELF-ESTEEM
SELF-HARMING
SEXUAL ABUSE
SOCIAL INTEGRATION
STRESS REDUCTION
Free yourself from the stress that keeps you down.
Does it feel like you have too much to deal with? Are you dealing with problems that seem impossible to fix or never go away? Are you feeling drained of energy, unmotivated, unhappy? Low to moderate levels of stress are normal, but high levels can seriously impact all areas of your life from work and home, relationships with family and friends, your general health, to your mood and outlook on life. How much is stress affecting you?
Have you experienced any of the following:
Feeling overloaded or overwhelmed
Increased frustration, irritability, edginess
Constant tiredness, weakness, fatigue
Anxiety, worry, guilt, nervousness
Frequent headaches, jaw clenching or pain
Difficulty concentrating or remembering new information
Neck ache, back pain, muscle spasms
Difficulty sleeping
Diminished sexual desire or performance
Depressed mood, discouraged, pessimistic
Increased anger, frustration, hostility
Feelings of loneliness or worthlessness
Social withdrawal and isolation
Increased smoking, alcohol or drug use
Through working with a therapist specializing in decreasing stress and improving your mood you can:
Stop feeling stressed and start enjoying life again
Release the body tension that drains you and feel energized
Feel calm and relaxed by freeing yourself from constant worrying
Quit avoiding others and enjoy time with family and friends
Do the things you really want to do
Rid yourself of guilt and self-criticism
Feel good about yourself so you can live the life you want
What makes me different from other therapists and counsellors?
As a licensed therapist I specialize in working with men and the people who love them. With over 15 years working with men, I know that men were not always happy with the approaches used in therapy. Traditionally women were the largest users of therapy and it's no surprise that to solve a problem therapy focused on talking about feelings. I have developed, along with several other therapists, an approach that best helps men in counselling. Men want to talk less about feelings and more about fixing. My approach means working with you to find the solutions you need to fix the problems that are in your way.
I love what I do because guys are great to work with and it often feels like teamwork. As a therapist and especially as a guy, I know what men have to deal with. I really get "guy stuff."
Call me or send me an email. I'd like to hear your story and see if we can work together to get the results you want."